The Importance of the Conformity Assessment Procedure for the Manufacturer
The manufacturer's conformity assessment procedure is an important procedure to ensure that manufactured products comply with applicable legal requirements and technical standards. The procedure assesses whether the medical device complies with the applicable requirements before placing it on the market. It involves checking whether the product meets all safety, health and environmental requirements and whether it complies with the applicable technical standards. Such a conformity assessment procedure may comprise several steps: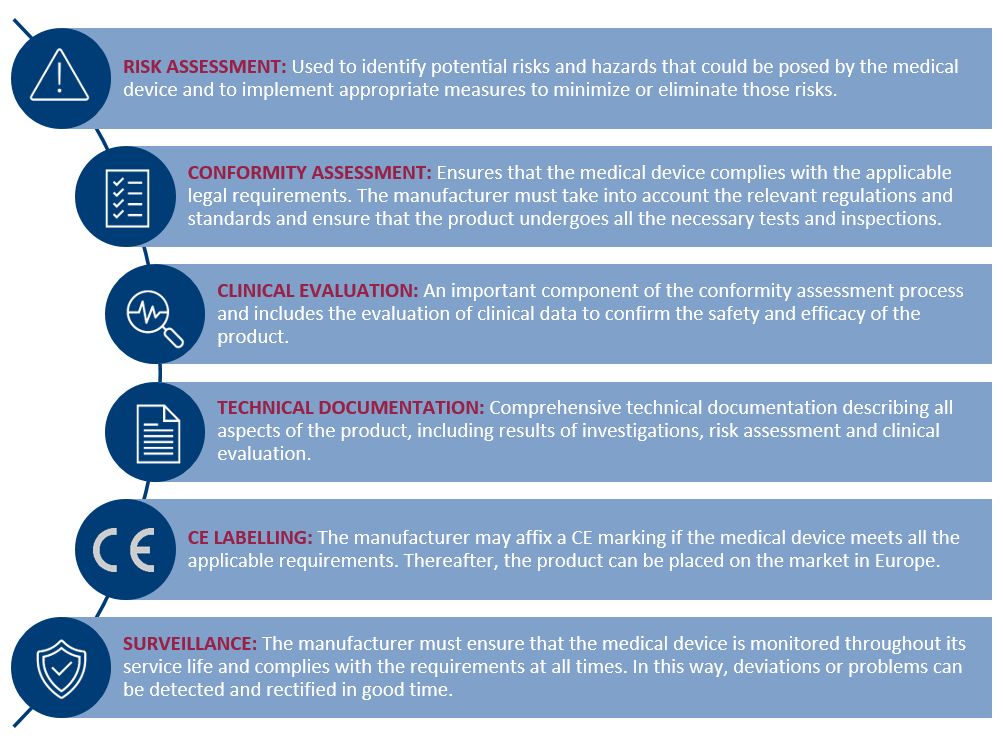 Medical device manufacturers must comply with the General safety and performance requirements (GSPRs) to meet the requirements of the EU MDR. To this end, clinical data must be collected and analysed on an ongoing basis. The manufacturer is required to take steps to provide sufficient clinical evidence.
The frequency and extent of reporting depend on the risk classification of the product. Simple products with low-risk classification can provide sufficient clinical evidence through literature review, others need clinical investigations. A clinical investigation according to MDR is required for risk class III (IIb if applicable) devices, implantable devices and devices without equivalence data.
Clinical Evaluation
With the introduction of the MDR EU/2017/745, the requirements for the planning and preparation of clinical evaluations have been significantly more stringent. In addition to the (EU) MDR and MEDDEV 2.7/1 Rev 4, the new requirements for clinical evaluations of the Medical Device Coordination Group (MDCG) must be considered as well. In particular, the more precise formulated requirements for technical, biological and clinical similarity must be noted, which in certain cases means that previously used published studies can no longer be used to demonstrate performance and safety.
A clinical evaluation must be carried out according to a precisely defined procedure. At the latest with the entry into force of the (EU) MDR, a clinical evaluation also requires the preparation of a separate clinical evaluation plan (CEP). The content of the clinical evaluation must also be in line with the requirements of the "clinical evaluation assessment report template" used by the notified bodies.
Clinical Investigation
Medical devices must be clinically tested as part of the clinical evaluation or if it is a medical device that is not yet CE certified or whose use in the clinical investigation does not correspond to the original intended purpose. In addition, other clinical investigations involving medical devices are conducted outside of product development. Article 82 of the MDR defines these as clinical investigations conducted for a purpose other than that specified in Art. 62 (1) MDR. These include but are not limited to, basic research and feasibility studies.
Depending on the type of clinical investigations and other criteria (e.g., whether or not a CE mark is available), different application approval procedures must be followed.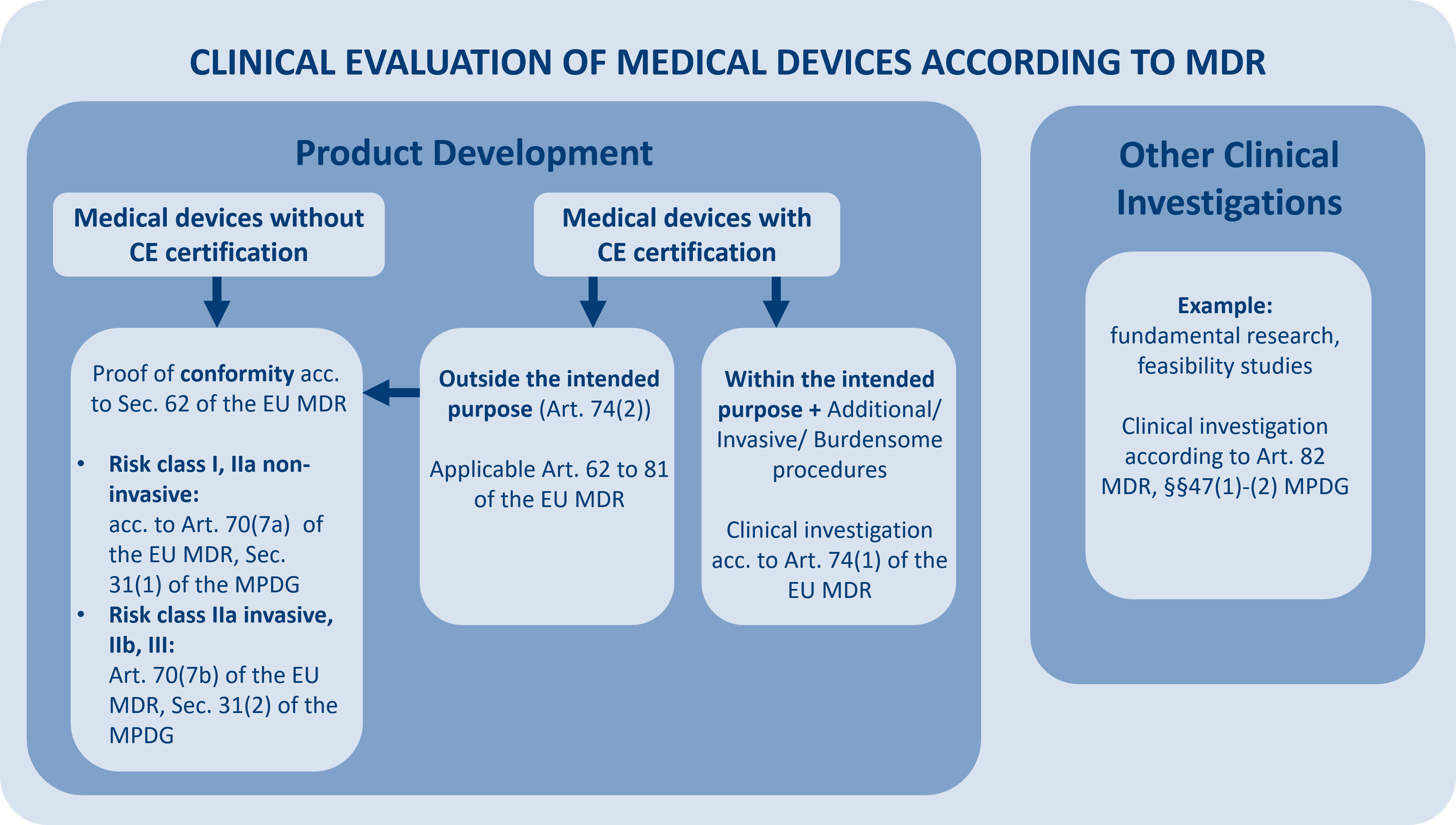 Clinical performance studies are conducted based on the clinical performance study plan. The purpose of clinical performance studies, according to the IVDR, is to identify or confirm the safety and performance aspects of a medical device. Most importantly, aspects must be identified that have not been previously demonstrated through analytical and clinical performance evaluations, literature, and/or previous experience with routine diagnostic testing. The data obtained are part of the performance evaluation and are an important component of the clinical evidence.
Our Services for You
As a competence center for medical devices in Rhineland-Palatinate, the MIC will be happy to support you in conducting your clinical investigation:
We check for you whether a clinical investigation is necessary for your medical device.
We create a clinical evaluation plan (CEP).
We conduct a systematic literature search as the basis for building your clinical database.
Through our network, we can involve medical experts and expertise.
We support you in the implementation and execution of PMCF activities.

Do you have any further questions?

Contact us today at info@mic-mainz.de or +49 6131 17-9646 and get comprehensive advice from our experts.

We look forward to hearing from you!